Build up an airship and explore a new world in this unique steampunk experience
Black Skylands Prepares for Landing at Steam's Base Builder Fest
January 19, 2023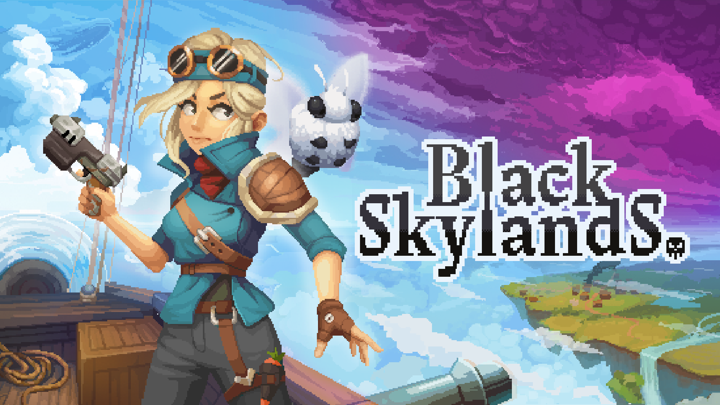 [Bellevue, Washington/January 16, 2022] - Experience Black Skylands like never before, as the game will show off a wide range of updates during the Steam Base Builder Fest. Captain your airship, gather resources and build weapons to keep your enemies at bay in this unique adventure. Black Skylands has received four major updates since it's Early Access Launch in 2021. Get a sneak peek at what the game will have to offer during Steam's Base Builder Fest on January 23 - 30th, 2023.
Black Skylands takes a unique approach to the steampunk experience that combines elements of open world, sandbox, top-down shooter, and adventure games. Players take on the role of Eva, a brave young airship pilot who is seeking revenge on the criminals who destroyed her home and everything she held dear. However, players will need to be on alert as Eva's enemies aren't the only threats she will encounter. Something far more dangerous is lurking in the dark skies.
Since 2021, the team behind Black Skylands has worked to bring four massive updates to fans. The following updates have changed gameplay, added weapons to the story, and improved the overall player experience. 
Treasure Hunter: Content from this update included a treasure-seeking feature, side quests, and rewards. Six new types of Swarm weapons were also introduced in this update. Along with the new types of weapons, there will be 60 new mods for them as well. Four new quest lines were also added to the game. 
The Ice Kraken: This update introduced the Ice Kraken aerial event boss and associated rewards and crafting. Random aerial encounters were also introduced, which included raiding big enemy ships, helping civilians, and avoiding an erupting Volcano. Eva also is now capable of new active abilities like lightning storms, turrets, and shields. 
The Raids Update: A big portion of the quality of life improvements came with this update, as well as new 'raids' that brought roguelike mechanics for those who have finished the main storyline. 
The Aerial Update: New aerial enemies and bosses. The aerial combat has been fully reworked to give players a better experience. A new damage model for the enemy and friendly ships was also introduced in this update.
Key Features:
Fight in the skies and on land: Combine aerial and ground fighting tactics by using dozens of upgradeable weapons from your arsenal.
Gather resources and upgrade your flying base: Create powerful artifacts, tinker in the workshop, construct buildings, set up production, and farm the land.
Improve your ship: A maneuverable sloop, a spacious barge, or something in between — choose the airship that fits your playstyle.
Conquer new territory: Liberate occupied lands, strengthen your influence, and unlock new opportunities for yourself.
Explore an expansive open world: Travel through forests, farms, snowy lands, and ruins, and discover things no one has ever seen before.
Go on raids to test yourself: ​ Finished the main storyline? Take on tons of different challenges, destroy hordes of enemies, and get unique rewards.
Black Skylands is currently available on Steam for $19.99. It is slated for a full release in late Spring 2023. Wishlist the game on Steam or join the community's Discord to stay up to date on the game's development. Those interested in piloting their own airship can request a game key by filling out this form. 
About tinyBuild
tinyBuild is a Seattle-based video game label that started when two guys made an indie cult hit No Time to Explain. Since 2011, the studio has expanded to two more locations in Amsterdam and Riga, and brought you hits like Hello Neighbor, Graveyard Keeper, Party Hard, and SpeedRunners.